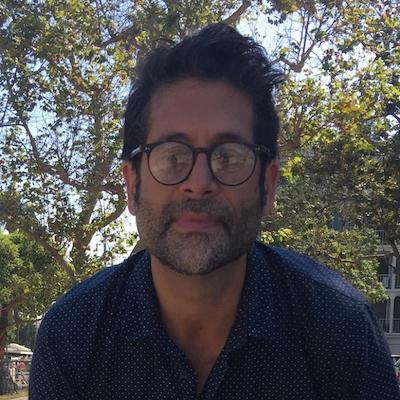 Curtis Fletcher is the Director of the Ahmanson Lab.
His research draws on key questions in the fields of media studies, visual studies, science and technology studies, and the history of technology. His published works examine the history of educational technology, the history of humanities education, and the history of the digital humanities. His work in the digital humanities focuses on multimedia and multimodal authoring and publishing, digital pedagogy, critical making, and the development of extended reality (XR) humanities projects.
He is a Co-Director of the multimedia authoring platform, Scalar, and for the Alliance for Networking Visual Culture.
Education
Ph.D. History, USC
B.A. History, UC Berkeley
B.A. Philosophy, UC Berkeley
Recent Publications
"A Case for Scholarly Making in the Library: Makerspaces, Innovation Labs, and the Evolution of Scholarly Communications," College & Undergraduate Libraries Vol. 27, No. 2 (2021). (Routledge).
with Rebecca Corbett, Rika Hiro, and Anne-Marie Maxwell, "Unpinning Poster Archive: Building a Class Exhibition Digitally During COVID-19," Textshop Experiments 7.5 (2020).
with David R. Ambaras, Erik Loyer, and Kate McDonald, "Building a Multivocal Spatial History: Scalar and the Bodies and Structures Project," Platform Vol. 1, No. 1 (2019).
"Educational Technology and the Humanities: A History of Control," in Matthew K. Gold and Lauren F. Klein, eds., Debates in the Digital Humanities 2019 (University of Minnesota Press, 2019).
with Danielle Mihram, "USC Digital Voltaire: Centering Digital Humanities in the Traditions of Library and Archival Science," portal: Libraries and the Academy, Vol. 19, No. 1 (2019), pp. 7–17. (Johns Hopkins University Press).
"The School of Tomorrow: Promoting Electronic Multimedia Education in the 1960s," History and Technology, Vol. 33, No. 4 (2018), pp. 428-440. (Routledge).
Recent Awards
2020. Co-PI. National Endowment for the Humanities, Office of Digital Humanities Digital Humanities Advancement Grant, $100,000. "Remastering the Renaissance: A Virtual Experience of Pope Julius II's Library in Raphael's Stanza della Segnatura."
2019. Co-organizer. USC Visions and Voices. Emotionally Intelligent Robots: More Human than Human? $18,000.
2018. Organizer. USC Visions and Voices. Making Data More Human: An Evening with Jer Thorp. $15,000.
2016-2018. Co-PI. National Endowment for the Humanities, Office of Digital Humanities Implementation Grant, $325,000. "Implementing Scalar for Digital Humanities Multimodal Online Publishing: Editorial and Authorial Workflow in Collaboration with Presses, Archives, and Humanities Centers."
Memberships
Regular Member, American Library Association
Regular Member, Association of College and Research Libraries
Regular Member, Library and Information Technology Association
Regular Member, Association for Computers and the Humanities