A Day with Jer Thorp
Jer Thorp is an artist, writer, and teacher best known for designing the algorithm to place the nearly 3,000 names on the 9/11 Memorial in Manhattan. Jer was the New York Times' first Data Artist in Residence, is a National Geographic Explorer, and in 2017 and 2018 served as the Innovator in Residence at the Library of Congress.

Jer Thorp | Official website, TED Talk, Twitter, Wikipedia
Taking Visualization Offscreen: Data in Public Space
A Workshop with Jer Thorp
Tuesday, September 18, 2018 | 3 pm
Ahmanson Lab | Leavey Library LVL 301
In this workshop, participants will explore examples of data art in public spaces as well as community-focused methods for engagement with data. Using a Los Angeles-based dataset, students will work in groups to prototype a project that presents information in the real world. This workshop will focus on the multi-disciplinary opportunities that arrive when data is put into public space, offering collaborative opportunities for students of information & computer science, design, art, architecture, and performance.
Making Data More Human
Lecture + Reception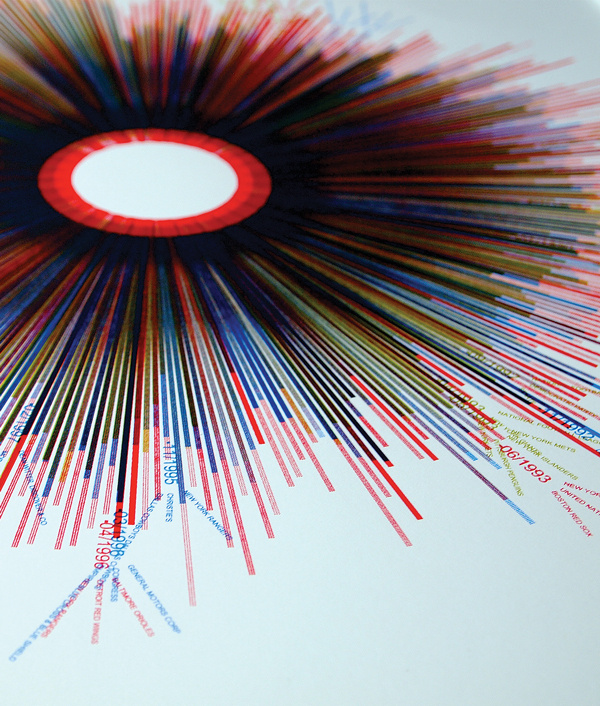 Tuesday, September 18, 2018 at 7 pm (Reception to follow)
Doheny Memorial Library (DML), Friends of the USC Libraries Lecture Hall, Room 240
From graphing an entire year's news cycle, to mapping the way people share articles online, to the 9/11 Memorial in Manhattan, the cutting-edge visualizations of data artist Jer Thorp help us learn about the ways we use digital technologies, become more empathetic in the data age, and, ultimately, tell the story of our lives. How can understanding the human side of data lead to innovation and change? What value is there in new and interactive approaches to data visualization? And what are the business applications of creative data-focused research? In a talk interweaved with beautiful and moving data-visualization projects, Thorp, the current Innovator-in-Residence at the Library of Congress, will illuminate how adding meaning and narrative to data can help people take control of the information that surrounds them, and transform the way we use data.